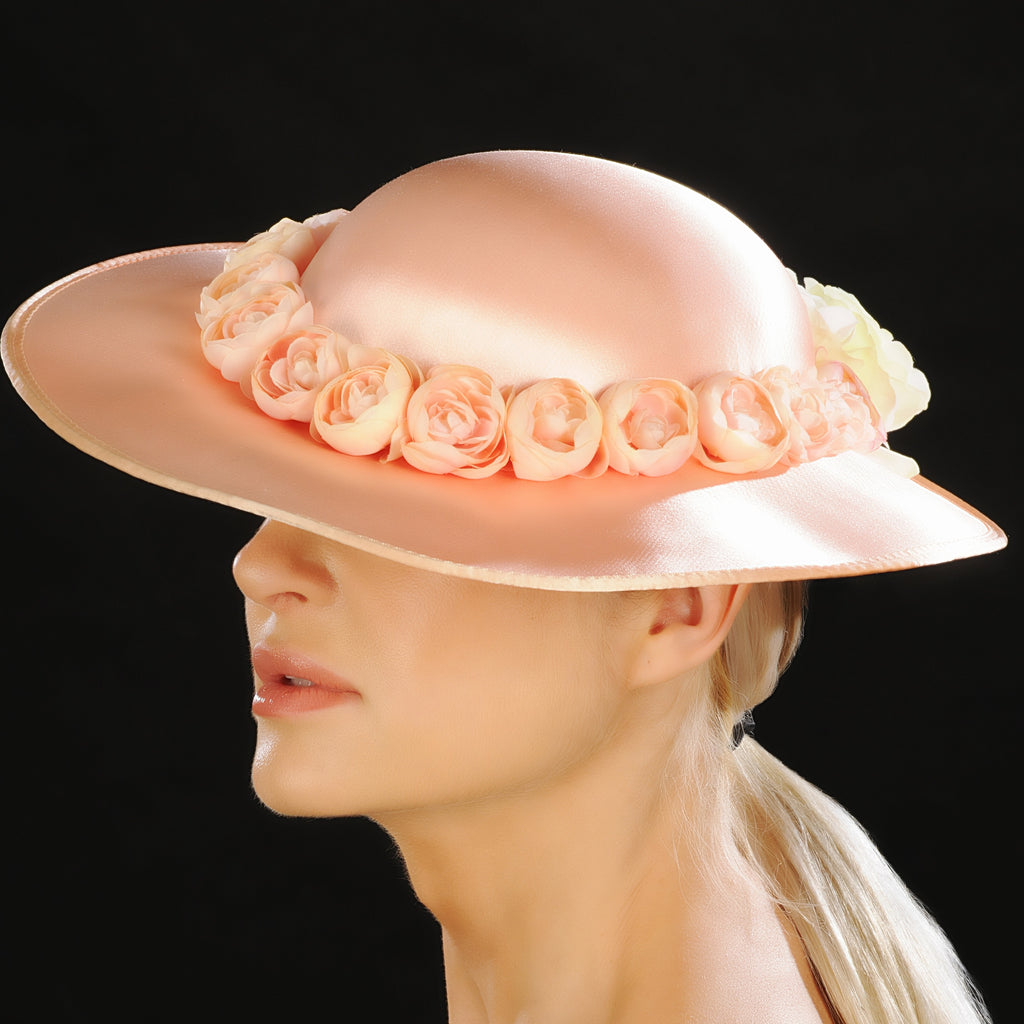 Here is the dilemma: I Love the way ladies dress hat look on mannequin but when I see them placed on some females, I then notice how wide their forehead is or how far their ears and nose stick out.
I know every hat looks different on every woman and it's all about trying different dress hats to find one that's right. While it's fun to experiment, I thought it would really be helpful to have a guide for finding the best hat for your face shape.
Here I made a research on the best hat recommendations for everything, from minimizing a big forehead to playing up those gorgeous cheekbones. Also I realized your hair really make a huge difference in the way a hat looks on you too. So here are my suggestions:
Round Face Shape
If you have a round face, you have to be careful in choosing hats. Boater Hat shapes are not very good on the round faces since the circular shape of the hat makes the face look wider. This works for those with long faces but takes away the look for round shaped faces. The crown of the hat should never be wider than your cheekbone.
Look for hats with a peeked or slanted brim, as well as asymmetrical angles which will help take the attention from your facial curves and avoid rounded crowns which will only emphasize the roundness in your face. Fedora is a great choice for round shaped faces as the angles add longevity to the face. Cowboy hat will also offset the roundness.
Square Face Shape
If you have an angular strong square jawline, your main goal is to add softness to your curves and minimize a strong jaw. You need a larger brim and a rounded crown to lengthen and soften the face. Go for one that sits high on your forehead and elongate the bottom half of your face.
Choose a feminine hat with large brims and curvy lines like a floppy hat or bowler hat with a rolled brim. Tilt or angle your hat to balance out the face.
Heart Face Shape
If you have a heart shaped face, a medium-brim is perfect for you. This face shape is great for hat lovers since most hats look good on a heart face. A good tip is to avoid wearing really wide brimmed hats as the wide brims can make the chin look even smaller and take away from the look. Also avoid too-small brims as they will only make your forehead look bigger.
Look for hats with soft curves or asymmetrical designs that can be angled one way or another. Boater hats are great since they have a small brim and they take away from the narrowness of the chin. Berets are also a good choice since the slouchy shape softens the angular chin. A cloche or bucket hat will also fit a heart-shaped face.
Oval Face Shape
Oval faces are deemed the perfect face. Not only does most hair style suit you, most hats suit you too. Although, it is advisable to avoid super high or shallow crowns as these increase the face length unnecessarily.
Oval faces can really spot any hat. Boater Hats are a good choice since they tend to widen the face because of their circular nature.
Sharp Angles face Shape
If you have a face with sharp angles, look for hats with prominent trimming, folding, or curving to complement your face. Think sweeping lines and asymmetrical shapes when it comes to hats.
Play with how hats sits on your head, you could try tilting and angling. Fedora is perfect if you have angular features as it shows off your cheekbones and gives your whole look a jaunty vibe.
Bonus Tips
Choose Millinery based on occasions and time of the day. Like a wide brimmed ladies dress hats go really well with a day time look with a sun dress or maxi. Fedoras look good with jeans and boots. Boater hats goes well with rompers and jumpsuits. For a night time look, avoid wearing wide brimmed hats as well as boaters. Keep to floppy hat or a stylish Fedora.
Hair color should also be considered when choosing hats. There should be a contrast. Dark colored hats are a great on blondes and light brunettes. Girls with raven hair and dark brunettes should get lighter hats colors such as red, pink, beige and all pastel shades.
Women with long hair should go for wide brimmed hats and berets while short haired women should go for Fedoras and Boaters hats.